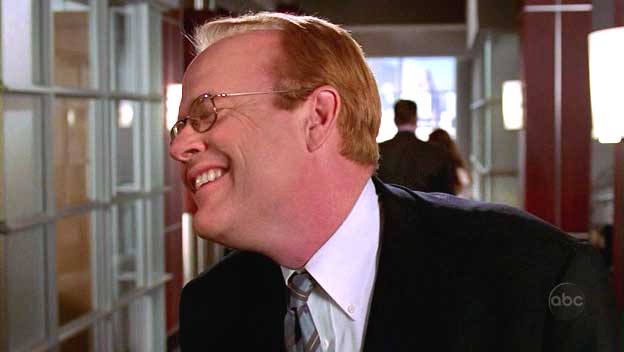 I love this episode very much.
It's funny how half of the shows I'm watching now are in their third season (the other half first) and how they all seemed to be slipping (if haven't already.) House successfully won my heart back 2 weeks ago as I'm getting more and more lukewarm and today Alan Shore's done it too. Aside from the side stories: Denny Crane goes to the temple and Denise and Brad go to couples therapy, Alan was the star of the day.
He took two case on the same day, one was about a mourning daughter stealing her father's plastinized body from the museum, the other about a therapist being discharged for claiming that he witnessed extraterrestrial life. The cases were not so special, but Alan's closing on humanity for the father-daughter case was clearly a production of his clash with Jerry "hands" Espenson in the other courtroom. Alan surprisingly found himself in the same court with Jerry, but as opposing counsels. They were genuinely very happy to see each other and hugged and had a quick catchup right in front of the unhappy judge. "I won't have happiness in my courtroom." "You two huggers don't get to decide – I'm the decider! " Shelly Berman as the judge was truly hilarious. Seeing Jerry in court, all confident with the help of a wooden cigarette, charming the entire courtroom, Alan seemed amazed and amused. He knew he's facing Jerry's copy of the Alan Shore. And there was even a moment Alan seemed a little crashed.
He had to do something. So Alan took the advantage of being Jerry's friend and affectively used his weaknesses against him. It nearly broke my heart seeing him shatter Jerry. I know he was sincerely happy for Jerry seeing him being able to stand firm in the court room with full confidence, but at the same time he had to do his job as an lawyer. And an accomplished lawyer like him, jaded and darkness-filled, he could and would do whatever necessary to win the case, including hurting his own friend. He regretted it instantly; however, he told himself (and Jerry) that he is who he is while apologizing. And his closing for Maureen (the girl who stole her father's body) was in fact an appeal for his own salvation.
This is by far the best BL episode this year.